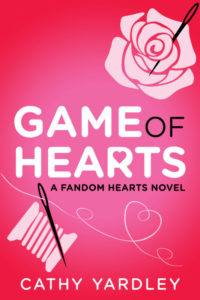 BY CATHY YARDLEY
I've been a geek since way back in the day. We had one of the first PC's on the block (yeah, I'm dating myself here) and I knew how to code in BASIC before the fifth grade. I remember early bulletin boards.  I was into comic books, science fiction, fantasy; I watched anime with friends, enough to learn Japanese phrases; I played RPG (role playing game) based board games and video games. 
I don't know what the tipping point was.  I strongly suspect it was the hot men of the Marvel cinematic universe, starting with Thor and Loki.  There was the Lord of the Rings trilogy in all its glory (and let's face it, the sheer heat factor of Viggo Mortensen's Aragorn.)  There was Game of Thrones.  Comic Cons went from little fan enclaves to blockbuster events.  And video games went from the nerdy pursuit of basement dwellers to an industry that makes more than movies.
It's been weird and wonderful to watch as the rest of the world has embraced the things I loved.  There are a lot of romance novels that have geeky heroes and heroines, which warms my heart. I started writing the Fandom Hearts series because I wanted to showcase the things that I adore about geek culture.  In Game of Hearts, I have Kyla Summers, a mechanic who really wants to be a costumer.  Given a once-in-a-lifetime chance to pursue her dream to costume full time, she can only go for it if she gets help – which comes in the form of her brother's best friend, a badass biker named Jericho, who is one of the best mechanics she knows (and someone she's crushed on for years.)
This is the third in the series, although it stands alone.  The other books include stories about coders and gamers, fandoms and conventions.  If you've ever felt like a geek, now is a great time to be alive – and reading romance! ?
---
ABOUT THE AUTHOR
Cathy Yardley is an award-winning author of romance, chick lit, and urban fantasy, who has sold over 1.2 million copies of books for publishers like St. Martin's, Avon, and Harlequin. She writes fun, geeky, and diverse characters who believe that underdogs can make good and sometimes being a little wrong is just right. She likes writing about quirky, crazy adventures, because she's had plenty of her own: she had her own army in the Society of Creative Anachronism; she's spent a New Year's on a 3-day solitary vision quest in the Mojave Desert; she had VIP access to the Viper Room in Los Angeles. Now, she spends her time writing in the wilds of East Seattle, trying to prevent her son from learning the truth of any of said adventures, and riding herd on her two dogs (and one husband.)
Visit her website here:
Visit her on social media here:
Facebook:  https://www.facebook.com/Cathy-Yardley-12854466085/
Twitter handle:  @cathyyardley