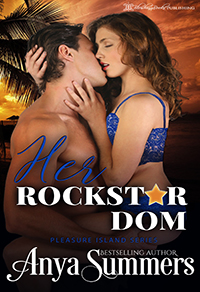 BY ANYA SUMMERS
One of the steps in my writing process has always been to use an actor or model as a frame of reference for my heroes and heroines. I'm a visual person and when I write, I tend to see the scenes play out as if I was viewing a movie in my head. To make my life infinitely easier, while also making the scene and imagery more tangible for me, I will ascribe an actor to the character as my point of reference for their physical appearance. Usually I will find pictures of the actor, which is not a hardship by any means, and will pull them up whenever I need a little nudge of writing inspiration.
I mean imagine being able to interact with some of the hottest men in the world. One of the reason, I love my job so much! Some of the actors I've used as model stand ins are, Stephen Amell, Tom Hiddleston, Jason Mamoa(meow!), and more among the lengthy and rather star-studded list.
For Her Rockstar Dom, the only actor who seemed to fit was Heath Ledger. And at times, it made it difficult to write since he is no longer with us. His was a brilliance that sparkled and dazzled us on screen. With his most memorable role, to me, was his turn as the Joker in Christopher Nolan's The Dark Knight, in which he won the first ever post humus Oscar Award. I realize that there are men and women, and 'regular' people who also deserve tributes and I'm not trying to diminish or say that his life was worth more than others. For whatever reason, Heath's passing is one of the few Hollywood deaths that really affected me. It still does even today. And I can't say the whys and wherefores other than to say it's affected me profoundly.
The tragedy of his life being cut far too short and the brilliance of the roles he might have played gone forever. In molding my character Collum Robinson, to appear physically like Heath Ledger, it's my hope that I captured some of Heath's essence and infused him into Collum. And with that tribute it's my hope that Heath finally received his own happy ever after.
---
ABOUT ANYA SUMMERS
Born in St. Louis, Missouri, Anya grew up listening to Cardinals baseball and reading anything she could get her hands on. She remembers her mother saying if only she would read the right type of books instead binging her way through the romance aisles at the bookstore, she'd have been a doctor. While Anya never did get that doctorate, she graduated cum laude from the University of Missouri-St. Louis with an M.A. in History.
Anya is a bestselling and award-winning author published in multiple fiction genres. She also writes urban fantasy and paranormal romance under the name Maggie Mae Gallagher. A total geek at her core, when she is not writing, she adores attending the latest comic con or spending time with her family. She currently lives in the Midwest with her two furry felines.
Visit her website here:
Visit her on social media here:
http://www.facebook.com/AnyaSummersAuthor
Twitter: @AnyaBSummers
Goodreads: https://www.goodreads.com/author/show/15183606.Anya_Summers
Sign-up for Anya Summers Newsletter
Amazon Author Page https://www.amazon.com/Anya-Summers/e/B01EGTVRKC/
Bookbub https://www.bookbub.com/authors/anya-summers
---
Her Rockstar Dom
Julia Dailey has a secret. She's an imposter planted on Pleasure Island, an undercover agent who's investigating visitors to the exotic, exclusive getaway. Until now, she's been able to pretend at face value that she is part of the lifestyle. But that all changes when she receives a new set of instructions from headquarters. She's to get close enough to their latest suspect that she will be forced to do something she's never considered herself capable of doing – submit.
Collum Robinson is an Australian guitarist with the band The Harbingers, with a dark and lonely past he's never fully escaped. At clubs around the world, he has women fighting over the chance to end up in his bed for the night. Never one to turn down a willing, soft body, he enjoys the fairer sex, frequently. But he's never met a woman who wanted more than a night with the fabled rock star – or one he wanted to keep. Until he meets Julia.
As they become intricately intertwined, Collum wants to make Julia his, but when her identity is revealed, can he forgive her betrayal? And will Julia be able to convince him where her loyalties lie and that he is the only man for her?
Publisher's Note: Book five in Anya Summers' bestselling Pleasure Island series contains explicit scenes and adult language.
Purchase Links
Amazon https://goo.gl/uYq6kw
Nook https://goo.gl/7kaEFG
Kobo https://goo.gl/4TfaVk
iBooks https://goo.gl/Tzy1mB
Blushing Books https://goo.gl/ZpnXuQ