Great new romances from Lynsay Sands, Megan Frampton, Alyssa Cole, and Christy Carlyle on sale from Avon!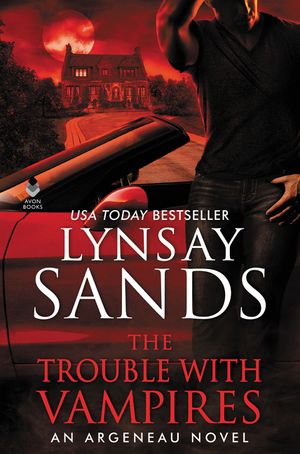 The Trouble with Vampires by Lynsay Sands
For close to three thousand years the imposing, impossibly handsome Santo Notte has fought in armies across the world and battled his own, more personal enemies. Of all the places he might expect to encounter his life mate, a quiet corner of upstate New York doesn't seem likely. But as soon as he makes contact with history professor Petronella Stone, while hunting down a suspected rogue immortal, he knows that she will be the greatest adventure of his eternal life.
He expects her to be surprised, confused, even overwhelmed. What he doesn't expect is that Pet has a secret history of her own. There's no mistaking the mind-blowing, mutual pleasure they share. But as Pet struggles to protect her nephew from a danger lurking too close to home, Santo realizes there's another threat to her safety—him. And claiming their passionate future will be impossible until he leaves his past behind, forever…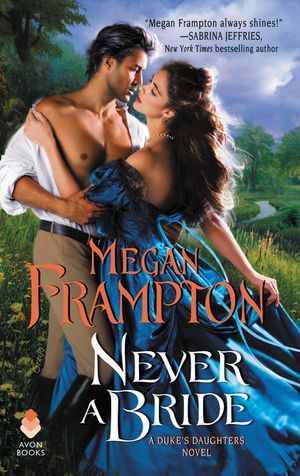 Never a Bride by Megan Frampton
After twelve years in Her Majesty's Navy, Griffith Davies must leave his sea-going life of outrageous freedom behind, forced to rejoin London society as the heir to the Duke of Northam. But though he is now shackled to the land, he has no desire to wed some innocently dull young thing.  Who best to shield him from the matchmakers than a woman as notorious as he?
Lady Della Howlett's reputation was tattered years ago, so entering into a false engagement with Griffith is hardly going to make matters worse. What's one more shock to the ton to set their tongues wagging? And this pact certainly has its pleasures; the passion Griffith commands in her goes well beyond their agreement. Could her feelings might be more honorable than she'd first imagined?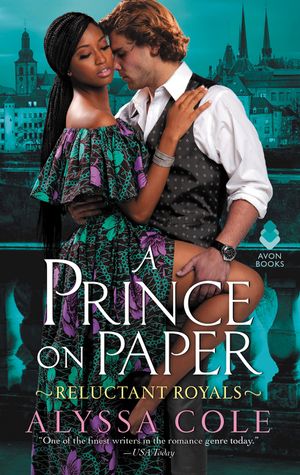 A Prince on Paper by Alyssa Cole
Nya Jerami fled Thesolo for the glitz and glamour of NYC but discovered that her Prince Charming only exists in her virtual dating games. When Nya returns home for a royal wedding, she accidentally finds herself up close and personal—in bed—with the real-life celebrity prince who she loves to hate.
For Johan von Braustein, the red-headed step-prince of Liechtienbourg, acting as paparazzi bait is a ruse that protects his brother—the heir to the throne—and his own heart. When a royal referendum threatens his brother's future, a fake engagement is the perfect way to keep the cameras on him.
Nya and Johan both have good reasons to avoid love, but as desires are laid bare behind palace doors, they must decide if their fake romance will lead to a happily-ever-after.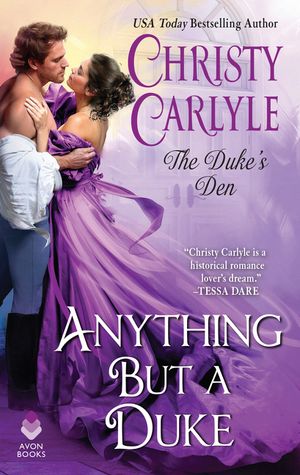 Anything But a Duke by Christy Carlyle
Self-made man Aidan Iverson has seen more closed doors in his thirty years than he's ever cared to count. As a member of the elite Duke's Den, he has all the money he could possibly need but the one thing he can't purchase is true power. If roguish Aidan can't buy his way into society's hallowed halls, he'll resort to a more extreme measure: marriage.
Brought up to be a proper lady, the only thing Diana Ashby desires is to be left alone to the creation of her own devices. But when her dreams are crushed, she must find another way to secure the future of her invention. Knowing his desire to enter her world, Diana strikes a deal to arrange Aidan's marriage to the perfect lady—as long as that lady isn't her. She doesn't need any distractions from her work, particularly of the sinfully handsome variety.
As Diana and Aidan set out to find him an aristocratic match, neither are prepared for the passion that ignites between them or the love they can't ignore.
In the Duke's Den, can happiness ever be a winning prospect?