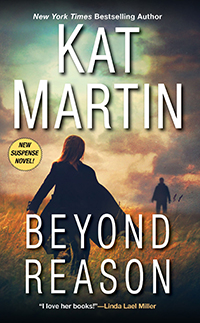 BY KAT MARTIN
When the idea came to me for a book set in Texas, I knew immediately I wanted to write more than one.  Texas is such a vast and interesting place with limitless possibilities.
In BEYOND REASON, the first book in what turned into my Texas Trilogy, multi-millionaire, Lincoln Cain, was a character who came to me full-blown.  Cain, six-foot-five inches of solid male muscle, a man who survived a tough childhood and even tougher years in prison, then redeemed himself and became a mega-successful entrepreneur, was a guy I desperately wanted to write.
I've always been a plot-oriented author, but starting with a great character made the job easier.  Once I had Carly Drake, a young woman who inherited a failing trucking company, I had the beginnings of a story.
It didn't take long to figure out Carly and Linc were perfect for each other, two survivors who didn't give up no matter the odds against them.
In BEYOND REASON, it's only five weeks since Carly buried her grandfather and took over Drake Trucking.  Now Drake's top driver is dead and the cops have no leads on the hijacking or murder.  Facing bankruptcy, phone threats, and fear of failure, Carly must turn to the last man on earth she wants to owe, wealthy, powerful, and controlling, Lincoln Cain.
Unfortunately, Cain's money can't protect her from the men who'll do anything to shut her down.  The only way Linc can keep her safe is to keep her close–and fight like hell.
I knew I wanted to write three books, but at first I wasn't sure about all the players.  Then I met Linc's mega-rich partner, former race car driver, Beau Reese.  I loved Beau right away, and since he was in trouble with the law, he needed the help of lady private investigator, Cassidy Jones.
That left marine special ops sniper, Joshua Cain, a half brother Linc had only just found about five years ago.  Since Josh was an overly protective sort of guy, I gave him a woman and her little girl on the run and in desperate trouble.  Tory and Ivy appealed to all Josh's protective instincts and he couldn't turn them away.
The stories are all very different and yet there is a common thread that pulls them together.  It was a fun theme to work on–one I'll let readers discover for themselves.
I hope you enjoy BEYOND REASON, BEYOND DANGER, and BEYOND CONTROL, my Texas Trilogy.  Until next time, all best wishes and happy reading, Kat
---
ABOUT THE AUTHOR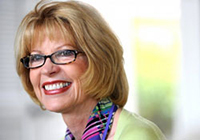 Bestselling author Kat Martin is a graduate of the University of California at Santa Barbara where she majored in Anthropology and also studied History. Currently residing with her Western-author husband, L. J. Martin, in Missoula, Montana, Kat has written sixty eight Historical and Contemporary Romantic Suspense novels.  More than sixteen million copies of her books are in print and she has been published in twenty foreign countries. Her last novel, INTO THE FIRESTORM, took the #7 spot on the New York Times Bestseller list.  This will be the 15th novel in a row to be included on that prestigious list.  Kat is currently at work on her next Romantic Suspense.
Website: http://www.katmartin.com
Twitter: https://twitter.com/katmartinauthor
Facebook: https://www.facebook.com/KatMartinAuthor
---
BEYOND REASON
She's determined to be successful–no matter
who tries to stop her
Someone is willing to kill for control of Drake Trucking, a well-respected firm now run by a woman named Carly Drake. Big money is involved. And very big danger.
Multi-millionaire Lincoln Cain is determined to keep the promise he made her grandfather, the man who helped him change his life after he got out of prison. Cain has vowed to protect Carly, no matter what it takes.
Unfortunately, the only way to keep her safe is to keep her close–and fight like crazy.
AMAZON | NOOK | INDIE BOUND | GOODREADS