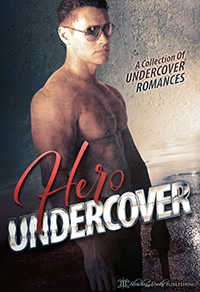 BY ANYA SUMMERS
When I was first approached about participating in the Hero Undercover Anthology, what stuck out for me was that this would be a chance for me to give back. You see each author involved is donating their royalties earned on this set to a charitable organization of their choosing. There is one that is near and dear to my heart. It's a worthwhile cause that helps children.
So today, I want to use my time with you to introduce you to Cooper's Totes in Los Angeles. What this organization does is provides a Tote filled with tangible items offering comfort and hope to kids entering the uncertain and scary world of the foster care system.
Cooper's Totes was founded by two families in Los Angeles who both have connections to the foster care system. Through their work, they are honoring the lives of their loved ones by putting a smile on a child's face, one tote at a time. Originally, it was begun and inspired by one of the founder's father and the other founder's desire to foster children. From there Cozy Totes was born. Then in April of 2015, one of the founder's lost her baby boy, Cooper, shortly after his birth. So to honor Cooper, and to bring his bright shining light of joy to as many children as possible, the organization's name was officially changed to Cooper's Totes.
What does a foster child find in their Tote? Each bag is made by gender and age groups. They are filled with hygiene products (toothbrush, deodorant, band aides), cozy socks, coloring books, drawing tools, a few snacks because many of these children are hungry but afraid to ask for food, toys, something special, novelty items, pajamas, blankets, night light, and story book.
For me, the founders of Cooper's Totes are unsung heroes, giving comfort and joy to kids through the donation of their time, effort, and care. If you would like to learn more about this wonderful organization, you case visit their website at: http://www.cooperstotes.com/.
---
ABOUT THE AUTHOR
Born in St. Louis, Missouri, Anya grew up listening to Cardinals baseball and reading anything she could get her hands on. She remembers her mother saying if only she would read the right type of books instead binging her way through the romance aisles at the bookstore, she'd have been a doctor. While Anya never did get that doctorate, she graduated cum laude from the University of Missouri-St. Louis with an M.A. in History.
Anya is a bestselling and award-winning author published in multiple fiction genres. She also writes urban fantasy and paranormal romance under the name Maggie Mae Gallagher. A total geek at her core, when she is not writing, she adores attending the latest comic con or spending time with her family. She currently lives in the Midwest with her two furry felines.
Visit her website here:
Visit her on social media here:
http://www.facebook.com/AnyaSummersAuthor
Twitter: @AnyaBSummers
Goodreads: https://www.goodreads.com/author/show/15183606.Anya_Summers
Sign-up for Anya Summers Newsletter
Amazon Author Page https://www.amazon.com/Anya-Summers/e/B01EGTVRKC/
---
HERO UNDERCOVER
Anthology ~ Only $0.99!!!
SUMMER IS COOLER WHEN YOU STAY UNDERCOVER!
25 New York Times, USA Today, and award-winning bestselling romance authors have created a smoking hot collection of torrid tales starring hunky bad-boy heroes and feisty strong-willed heroines. Heat up your nights with dark fantasies, seductive sci-fi, and breathtaking passion. Our alpha males range from swoon-worthy cowboys and take-charge military men to deliciously decadent dominants, and each page-turning story ends with the happily ever after you crave.
Hours upon hours of breathtaking romance for only .99 cents. Turn up the AC, lie back, and escape into these brand new, red hot, riveting reads. Grab this blistering box set now before the price goes up.
Authors include: Annabel Joseph, Addison Cain, Renee Rose, Maggie Ryan, Maddie Taylor, Emily Tilton, Trent Evans, Jennifer Bene, Sophie Kisker, Megan Michaels, Katherine Deane, Maggie Carpenter, Jane Henry, Maisy Archer, Alyssa Bailey, Claire Conrad, Stevie MacFarlane, Piper Stone, Anya Summers, Lucy Wild, BJ Wane, A.C. Rose, April Hill, Amelia Smarts, and Meredith O'Reilly
Don't miss the next installment in Anya Summers' bestselling Pleasure Island Series, HER UNDERCOER DOMS, exclusively in the HERO UNDERCOVER Anthology!!
AMAZON https://goo.gl/Jp41Wd
NOOK https://goo.gl/9H2WoY
KOBO https://goo.gl/HtHFnN
BLUSHING BOOKS https://goo.gl/uHc0dg
IBOOKS https://goo.gl/5LTgnG